Bondy Bait Co. | Chaos Tackle | Mend-It | Musky Innovations | Red October Baits | RubberHairy Tackle | WaterWolf Lures | All_Swimbaits
RubberHairy Tackle - Swim n Spin DT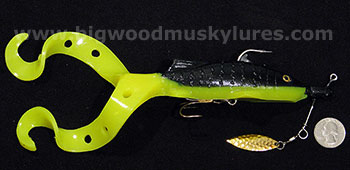 Black Chartreuse
Price: $11.99
Description: RubberHairy Tackle (Rubber Hairy Tackle) took the head and body of the Swim n Spin Sucker and combined it with the tails of the Twisted Tullibee to make the Swin n Spin DT! This new Muskie bait is the RubberHairy Tackle version of a bucktail! Made in the U.S.A. with a strong internal harness and durable plastic. A small blade beneath the body provides the flash and the double tails just never stop moving. There is a lot to like about this uniquely designed fishing lure. Can be fished with a pull and pause retrieve or burned fast for a reation strike.
Order
---
RubberHairy Tackle - Swim n' Spin Sucker 7"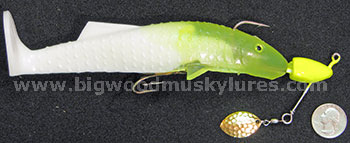 Yellow Head
Price: $11.99
Description: The Swim n'Spin Sucker, by RubberHairy tackle, is a lifelike swimbait that will make you look twice! So realistic in the water you will think its the real thing! Made with an extra thick and oversized paddletail to give off maximum vibrations and allow it to out last the the other tails! The extra flash and vibrations from the blade helps convert that lazy follower to a eater. Why put the blade on the bottom? Muskies eyes are towards the top of their head and they often first spot their prey from below. The flash and vibration of the blade below the bait can often be what triggers a fish to bite. To adjust this lure, simply bend the blade wire to either side for tuning. This will be your one of your favorite baits in the tackle box! Each lure is hand poured with a special blend of salt water plastic. This Pike and Musky Swimbait has a solid one piece .051 stainless steel wire hand bent and twisted twice. The strongest built on the market! 7", 2oz.
Order
---