Bitten Tackle | Musky Safari | Naze Baits | Phantom Lures | All_Topwater
Naze Baits - Tin Head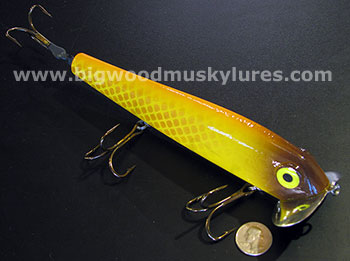 Baby Duck
Price: $24.99
Description: The ALL NEW redesigned Tin Head is here! The Tin Head, topwater Muskie lure frome Naze Baits, gets it's name from the metal equipped head and it's doltish wobble on the water's surface. This topwater bait has a quick, nervous, yet heavy footed action that really moves and disrupts water. The Tin head offers a large profile for fish as it wobbles back and forth, creating a large wake and gurgling sound. Muskies and Pike just can't resist what looks to be an easy meal. You will love the simplicity of this "jitterbug" style Muskie lure. No foul casts, no hang ups and no hassle. You will be hard pressed to find an easier and more satisfying Muskie lure to fish with. Solid constuction made from select woods. Giant, oversized split rings along with 4X VMC hooks make for better hooking percentages on stikes. 9", 4.8 oz.
Order
---
Phantom Lures - 8" Super Viper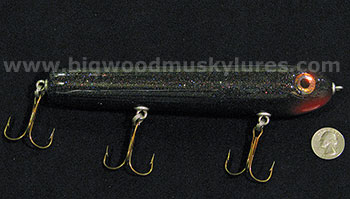 Black
Price: $23.99
Description: Super Viper muskie lures, from Phantom Lures are made of solid, high impact plastic specifically chosen for its wood like characteristics. 8" Super Vipers are hand painted, given 3-D eyes. and finished with a quality high gloss epoxy finish. All Viper musky lures are constructed with durable stainless steel hardware. The 8" Super Viper is an awesome yet very underestimated topwater bait. While the Phantom Lures Viper may at first glance look like just another topwater "walk the dog" style lure, its differences set it apart from the rest. The 8" Viper rides much lower in the water than other baits, thus increasing your hooking percentage greatly. Because of the way it runs, you produce a splash and wake that attracts fish. Most Muskies and Northern Pike hit this fishing lure hard. Another major difference is the way the Viper slightly rolls when twitched. This produces a tremendous fish attracting belly roll and flash! Fished slowly, it glides effortlessly with each rod twitch, but try retrieving it at a faster rate and watch it dart, dance and spray water. Phantom Lure Super Vipers can also make an up and down motion in addition to the side to side glide. The 8" Super Viper top water Musky lure is a very versatile bait! 8", 4oz.
Order
---