Bitten Tackle | Musky Safari | Naze Baits | Phantom Lures | All_Topwater
Musky Safari - 8" Water Moccasin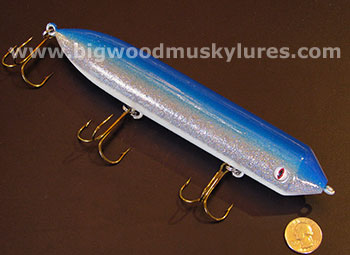 Blue Cisco
Price: $21.99
Description: The 8" Water Moccasin from Musky Safari is a custom weighted, walk the dog topwater bait. Designed to ride a little lower on the surface of the water, these heavy duty musky lures provide more reliable hook-ups when compared to lighter surface baits. Built to last with hand selected Maple and all stainless hardware! Tie on a Water Moccasin and experience the thrill of catching Muskies on topwaters! 8" and a little over 4oz..
Order
---
Musky Safari - Frankenspitz
Midnight
Price: $54.99
Description: The Musky Safai Frankenspitz is a MONSTER fish cathing machine! This jointed creeper has elements of a wobbler and a globe built into one fine Musky lure! Quality components, beautiful finishes and excellent workmanship sets the Frankenspitz apart. Hook hangers insure good hook-ups. The Frankenspitz Creeper can effectively be fished fast or slow. 8", about 4oz..
Order
---